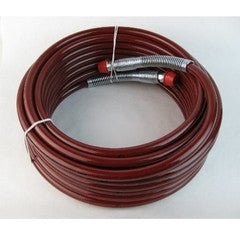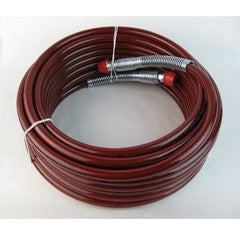 Our quarter inch paint striper replacement hose line comes in multiple lengths and is designed for airless painting equipment and any of our line stripers.  The two male quarter inch fittings come with the added kink preventer so that you do not wear, weaken, or bend the hose at the fittings. We have all the PSI variations starting at 3300 psi and going up.
1/4" Airless Paint Hose replacement line for airless stripers and paint machines
3300 psi, 3600 psi, 4500 psi, 6500 psi and 7500 psi
Lengths in short whip sizes or longer replacement hose lengths 3, 6, 50, 100 foot
 Airless Striper Replacement Hose in all PSI Sizes, 
This replacement line is for airless paint stripers and is maroon in color
Airless Paint Machine Replacement hose comes in 3300 PSI, 3600 PSI, 4500 PSI, 6500 PSI, and 7500 PSI.
| | |
| --- | --- |
| 3' / 4500 | 0.83 lb |
| 3' / 6500 | 1.0 lb |
| 3' / 7500 | 1.0 lb |
| 6' / 4500 | 1.0 lb |
| 6' / 6500 | 3.45 lb |
| 6' / 7500 | 3.45 lb |
| 50' / 3300 | 3.45 lb |
| 50' / 3600 | 3.45 lb |
| 50' / 4500 | 3.45 lb |
| 50' / 6500 | 3.45 lb |
| 50' / 7500 | 3.45 lb |
| 100' / 4500 | 3.45 lb |
| 100' / 6500 | 3.45 lb |
| 100' / 7500 | 3.45 lb |
Add item(s) to your cart, then calculate shipping cost below: