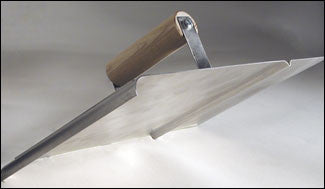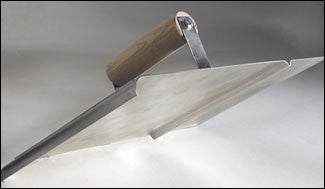 This Concrete Finishing Groover tool is our 12" Finishing Groover as the groove is placed at 12" from the end radius but the tool length is 15".   You can select from a couple radius sizes and the groove depth so that you can cut a concrete groove just the way you want it.  This stainless steel tool is made in the US by a family owned multi generation tool manufacturer.  This concrete groover will last a long time if you treat it right.  The radius you see on the end of this tool can be 1/2" or 3/4" and the groove on this 15" tools is placed as you see it at 12".  The groove can be made or ordered by you to include a groove depth of 1/4", 3/16", or 3/8" depth.  The one displayed here in this picture is 1/4" depth (the cutting groove).
Concrete Finishing Groover multiple variations built to order

Stainless Steel Concrete Groover with End Radius

End Radius can be 1/2" or 3/4"

Concrete Groover Depth of 1/4", 3/16", or 3/8"
Product/Picture above shows our 15" stainless concrete groover tool that we call the 12" Square Finishing Groover.  This one has the groove placed at 12" and the end radius here is 1/2".  
| | |
| --- | --- |
| Default Title | 3.0 lb |
Add item(s) to your cart, then calculate shipping cost below: