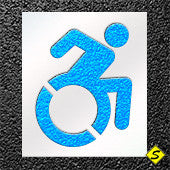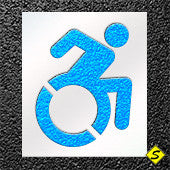 This new Accessible Icon or Active Handicap Paint Stencil that should replace your old handicap stencil design is the new and revamped symbol for parking lot handicap slots.  It is the new, more forward thinking symbol, better alternative symbol to use in handicap parking spaces. This symbol shows a more active, self-moving, and able person. This is a more active and engaging representation of an individual in a wheelchair or a person with a different ability. This icon implies having more access to more opportunity. Use this icon from now on and give a better perception to your city or private parking lot. This new icon is a more positive way for you to depict a person with a different ability. Make a better and new statement by using this active icon. Buy this accessibility icon design in our paint stencil section and offer this as a better option to your customers when re-sealing or paving a parking lot. It gives the impression of an active person or Paralympic athlete, participating in wheelchair races or other events.
Positive Active Handicap Symbol or Icon

Suggests Independence and Ability

Independance as Opposed to Dependence

Universal Access Pavement Stencil
Sizes:  39" Standard Accessible Icon Paint Stencil and also available as a 48" Active Stencil--These are approximately 1/8" thickness
Check out our full selection of high-quality asphalt traffic paint to use with your new parking lot stencil. Visit our Traffic Paint page today!
Your accessible friends would like you to champion the new language describing a "handicap symbol" by using "accessibility symbol" when referring to the paint stencil or design. Will you help us teach your community this language and encourage their use of this accessible symbol on city or village parking lots  We know changing your parking lot signs and symbols containing the old handicap symbol to the new accessible symbol might now all be done at once due to some cost in this.  But perhaps your alderman or mayor would assist you in implementing these new symbols suggesting access into any newly added signs and parking lot changes or improvements that could incorporate our new paints stencil.  
Please help us lead this cause within your community.
| | |
| --- | --- |
| 39" Accessible Icon Paint Stencil -Standard Size | 4.0 lb |
| 48" Accessible Icon Paint Stencil | 5.5 lb |
Add item(s) to your cart, then calculate shipping cost below: