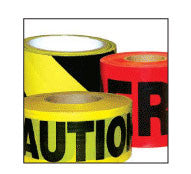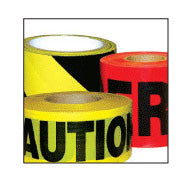 2" Black characters on yellow tape 3" wide 3 mil (Heavy Duty).  This is the style you see in the movies for crime scenes such as "Caution Crime Scene" or simply "Caution", "Caution Construction", or  "Attention Attention".  We have them all see the list below select the one you need or even a blank with no caption or customize your own with larger quantities.  

3 mil thick (heavy duty)
1000 ft roll included with this item (unless it indicates other length)
A full box (case) purchase by including for a quantity of 12:
pkg: Box
case pack: 12
You MUST order a case of 12 or in Quantity 12 increments!
| | |
| --- | --- |
| Caution No Parking | 0.5 lb |
| No Legend | 0.5 lb |
| Caution Construction | 0.5 lb |
| Caution Crime Scene | 0.5 lb |
| Attention Attention | 0.5 lb |
| Caution/Cuidada (Bilingual) | 0.5 lb |
| Caution Do Not Enter | 0.5 lb |
| Caution D.N.E. (Bilingual) | 0.5 lb |
| Caution Hazardous Material | 0.5 lb |
| Caution Men Working | 0.5 lb |
| Caution Men Working Overhead | 0.5 lb |
| Caution | 0.5 lb |
| Caution Open Trench | 0.5 lb |
| Caution Safety Hazard Keep Out | 0.5 lb |
| Caution Symbol | 0.5 lb |
| Caution Wet Paint | 0.5 lb |
| Danger (Red) | 0.5 lb |
| Danger Asbestos Hazard (Red) | 0.5 lb |
| Danger Do Not Enter Red | 0.5 lb |
| Danger/Peligro (Red) (Bilingual) | 0.5 lb |
| Police Line Do Not Cross | 0.5 lb |
| Cuidado Cuidado | 0.5 lb |
Add item(s) to your cart, then calculate shipping cost below: