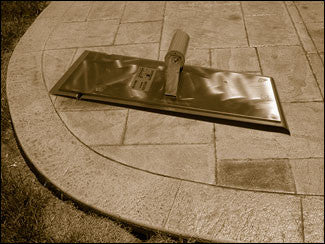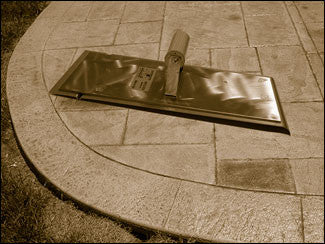 Sale
This custom Hand Finishing Tool for Concrete can be custom built to your size to put the groove where you want it.  You pick the radius on the end and where you want the groove.  This is a custom built concrete hand groover made in America.
This stainless tool can be grooved according to your specs. We have end radius options that include either  1/2" or  3/4".  The groove can be set to the depth that you prefer at  1/4", 3/16",  or  3/8" deep.  You tell us how far from radius end you would like the groove.  We can put it where you want it up to 12" from the radius side. This image featured in the picture is a 15" plate with 12" groove placement  1/4" groove and a  1/2" radius. 
You have the choice of the following:
End Radius Options of 1/2" or 3/4"
Groove Depth set to what you like 1/4", 3/16", or 3/8" depth
We let you decide where you want us to make the groove-how far from the radius?
This is one of the finest made tools by a proud American Tool Maker family with 3 generations of perfection and pride in making concrete tools
| | |
| --- | --- |
| 1/2" End Radius / 1/4" Groove Depth / Set Groove 12" from radius end | 4.0 lb |
| 1/2" End Radius / 1/4" Groove Depth / Set Groove 10" from radius end | 4.0 lb |
| 1/2" End Radius / 1/4" Groove Depth / Set Groove 8" from radius end | 4.0 lb |
| 1/2" End Radius / 1/4" Groove Depth / Set Groove 6" from radius end | 4.0 lb |
| 1/2" End Radius / 1/4" Groove Depth / Set Groove 4" from radius end | 4.0 lb |
| 1/2" End Radius / 1/4" Groove Depth / Set Groove 2" from radius end | 4.0 lb |
| 1/2" End Radius / 3/16" Groove Depth / Set Groove 12" from radius end | 4.0 lb |
| 1/2" End Radius / 3/16" Groove Depth / Set Groove 10" from radius end | 4.0 lb |
| 1/2" End Radius / 3/16" Groove Depth / Set Groove 8" from radius end | 4.0 lb |
| 1/2" End Radius / 3/16" Groove Depth / Set Groove 6" from radius end | 4.0 lb |
| 1/2" End Radius / 3/16" Groove Depth / Set Groove 4" from radius end | 4.0 lb |
| 1/2" End Radius / 3/16" Groove Depth / Set Groove 2" from radius end | 4.0 lb |
| 1/2" End Radius / 3/8" Groove Depth / Set Groove 12" from radius end | 4.0 lb |
| 1/2" End Radius / 3/8" Groove Depth / Set Groove 10" from radius end | 4.0 lb |
| 1/2" End Radius / 3/8" Groove Depth / Set Groove 8" from radius end | 4.0 lb |
| 1/2" End Radius / 3/8" Groove Depth / Set Groove 6" from radius end | 4.0 lb |
| 1/2" End Radius / 3/8" Groove Depth / Set Groove 4" from radius end | 4.0 lb |
| 1/2" End Radius / 3/8" Groove Depth / Set Groove 2" from radius end | 4.0 lb |
| 3/4" End Radius / 1/4" Groove Depth / Set Groove 12" from radius end | 4.0 lb |
| 3/4" End Radius / 1/4" Groove Depth / Set Groove 10" from radius end | 4.0 lb |
| 3/4" End Radius / 1/4" Groove Depth / Set Groove 8" from radius end | 4.0 lb |
| 3/4" End Radius / 1/4" Groove Depth / Set Groove 6" from radius end | 4.0 lb |
| 3/4" End Radius / 1/4" Groove Depth / Set Groove 4" from radius end | 4.0 lb |
| 3/4" End Radius / 1/4" Groove Depth / Set Groove 2" from radius end | 4.0 lb |
| 3/4" End Radius / 3/16" Groove Depth / Set Groove 12" from radius end | 4.0 lb |
| 3/4" End Radius / 3/16" Groove Depth / Set Groove 10" from radius end | 4.0 lb |
| 3/4" End Radius / 3/16" Groove Depth / Set Groove 8" from radius end | 4.0 lb |
| 3/4" End Radius / 3/16" Groove Depth / Set Groove 6" from radius end | 4.0 lb |
| 3/4" End Radius / 3/16" Groove Depth / Set Groove 4" from radius end | 4.0 lb |
| 3/4" End Radius / 3/16" Groove Depth / Set Groove 2" from radius end | 4.0 lb |
| 3/4" End Radius / 3/8" Groove Depth / Set Groove 12" from radius end | 4.0 lb |
| 3/4" End Radius / 3/8" Groove Depth / Set Groove 10" from radius end | 4.0 lb |
| 3/4" End Radius / 3/8" Groove Depth / Set Groove 8" from radius end | 4.0 lb |
| 3/4" End Radius / 3/8" Groove Depth / Set Groove 6" from radius end | 4.0 lb |
| 3/4" End Radius / 3/8" Groove Depth / Set Groove 4" from radius end | 4.0 lb |
| 3/4" End Radius / 3/8" Groove Depth / Set Groove 2" from radius end | 4.0 lb |
Add item(s) to your cart, then calculate shipping cost below: