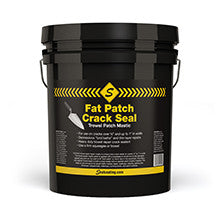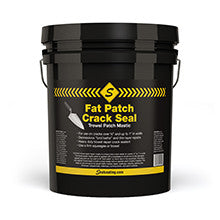 Fat Patch™ Smooth Trowelable Mastic is heavy duty wide crack filler for cracks ½" + in width. This trowel grade mastic patch is applied with a squeegee or trowel tool to the damaged asphalt area and can be used to fill "bird baths" or shallow and minor dips in the pavement. This heavy duty asphalt trowel repair is both a wide crack repair product and a smooth asphalt patch (mastic) material for Gator Patching or "alligatored asphalt". This ready to use formula is for paved traffic median repair, roadways, airports, parking lots, driveways, playgrounds, walkways, running tracks, and sport surfaces.
For use on cracks over ½" and up to 1" in width
Depressions, "bird baths" and thin-layer repairs
Heavy duty smooth trowel repair crack sealant
Use a firm squeegee or trowel to smooth then let it dry rock hard
SURFACE PREPARATION: Surface must be clean, dry and free of all dirt dust and debris.
Customers often ask us, "Is this a Trowel Grade Crack Filler?":  Yes, this is a trowel grade crack filler.
APPLICATION:   Mix material well prior to using as is.  It is advisable to use tack coat (1 part SS1H and 4 parts water) prior to filling cracks, and applying trowel grade mastics to shallow depressions ("bird baths") when repairing pavement surfaces.
Fill Cracks:  Fill pavement cracks or voids and squeegee or scrape flush to surface prior to set up (use Sealcoating.com V-shaped rubber squeegee recommended).
Filling and patching dips, depressions or low spots ("bird baths"):  Fill with a trowel tool or firm squeegee by placing a thin layer or lift of approximately ¼" in depth.  Allow to harden before placing second or additional layers of mastic patch and prior to the seal coating application.
Fat Patch will set under good conditions in several hours depending on temperature, humidity and trowel filler thickness.
COVERAGE PER GALLON:  Estimated to cover up to 80 linear feet of ½" X ½" depth cracks, but coverage is indefinite. Up to 20 ft.² for patching bird baths ¼" in depth.
CAUTION:  KEEP FROM FREEZING. Do not use when rain is forecast, when surface is wet or when temperature is below 50°F. Wash tools in water. Use a paint thinner if material has dried. Do not store in direct sunlight or where temperatures exceed 100°F. Container should be closed when not in use. Keep out of the reach of children.
PACKAGING:     5 gallon pails and 55 gallon drums.
User-friendly, complies with all V.O.C. emissions and E.P.A. standards. 
MATERIAL SPECIFICATIONS
REQUIREMENTS
Weight per gallon, @ 77°F, ASTM D 1010
10.80-11.30
Nonvolatile %, ASTM D2939
66.00-70.00
Viscosity @ 77°, ASTM D562 (Kreb's Stormer Unit)
125 min.
Penetration (0.1 mm), ASTM D 5
Pass

Std. Spec. for Emulsified Asphalt:

 AASHTO Designation M140-70
 ASTM Designation D977-73 & D244



Meets Specs.
Meets Specs.

Flammability

Non-flammable
Safety Data Sheet (SDS) - Click to View PDF in New Window | Click to Download PDF
This information is to assist customers in determining if this product is suitable for the proposed application, and to satisfy themselves as to the suitability of the contents. Nothing herein shall constitute a warranty, express or implied, including any warranty of merchantability or fitness, nor is protection from any law or patent implied.12/8/05
| | |
| --- | --- |
| Default Title | 60.0 lb |
Add item(s) to your cart, then calculate shipping cost below: