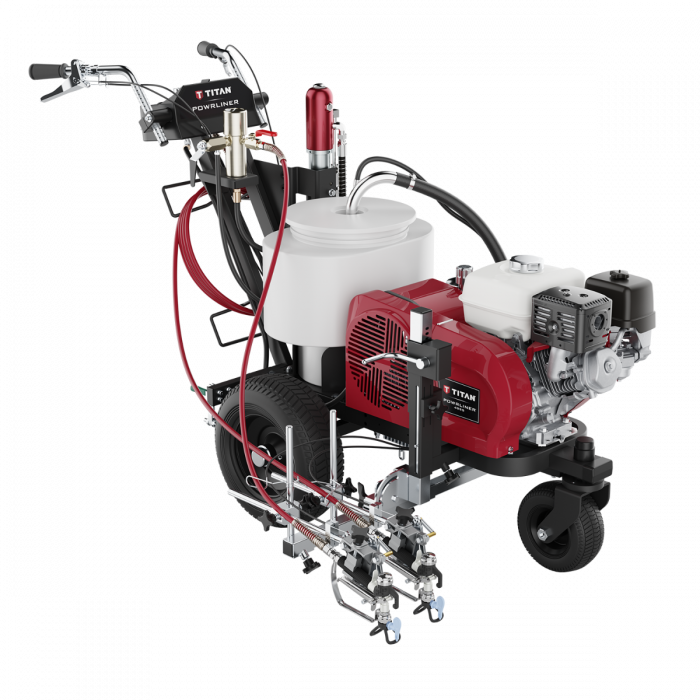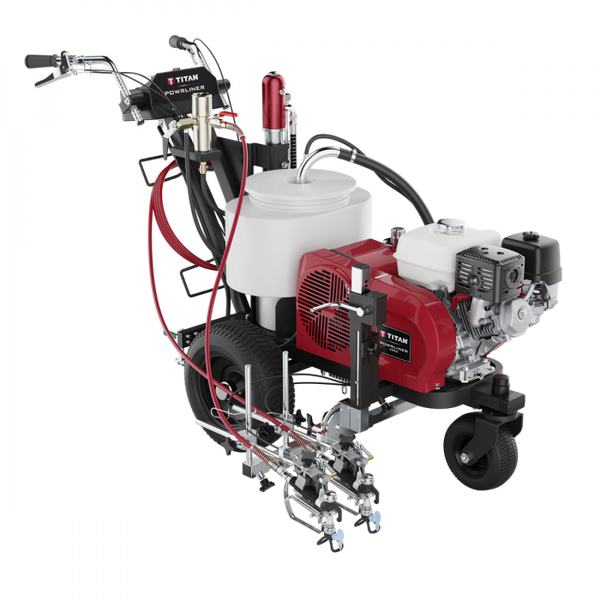 The Titan PowrLiner 8955 Paint Striping Machine includes a 6.5 hp no hassle Honda Engine with Electric Start and 100 watt lamp coil.  This unit comes with two Paint Guns out of the crate for double line painting like a pro starting NOW.  This Titan model 8955 was designed for contractors with large parking lot striping projects.  You want efficiency, reliability and speed and this unit is the one.  Our Titan Speeflo Hydra drive pump delivers paint with a smooth hydraulic slow stroke for nothing but consistency.  This hydraulic pump with mechanical valve design eliminates electronic switching failure and costly repairs from wear.  Now you have it- the engine you wanted and less maintenance with our Hydra Drive Pump.  Oh, one more difference that is talked about if you talk about striping in your spare time and that is the Smart arm that adjusts down when you are striping or swivel it up to paint curbs or to transport it without kicking the arm back in to the frame!  More features below.  
Honda GX200 Engine 6.5 hp (200cc) Easy Electric Start
Pump at 2.50 GPM (1 gun use max paint flow tip .054", 2 guns/tips use .038")
3300 PSI Maximum Operating Pressure
12 Gallon Poly Paint Hopper and a hose storage rack that can hold up to 300'
Smart Arm Elevator and 12 volt auxiliary port standard
Pneumatic tires for shock absorption
2 Paint Guns Included
4 year warranty included!
FREE Shipping!
Works great with Skipdash Type I Traffic Paint
For a more economical line striper, consider the

 

Titan PowrLiner 850 paint striping maching
Paint Type Compatibility: Use Solvent or Water Based Paints.
PowrCenter- Our power center console is a new design with everything to power your unit right in front of you.  The electric start is here, the pressure gauge that can be dialed down to 400psi for stencils or up to 3300psi.  Throttle control, tip holder, cup holder, with a phone and 12 volt charger for your phone/mp3 player.  There is even a tray for your job sheets or notes for the job.
Smart Arm Adjustable Pivot Arm- This new Gun holder arm pivots up and down and can be adjusted up for curb painting so there is no messing around with paint gun and not getting the pressure messed up but tightening down on the gun too much at the trigger point.  No loosening, swiveling and tighten the old way and more painting.  The best part is locking the arm up for transporting and this fast.
Speeflo HydraDrive- Our Titan Speeflo Hydra Drive pump means it pumps with smooth slow stroking hydraulic pressure.  The external hydraulic fluid porting with new and better fittings allows for fast and easy hydraulic pump maintenance.  Other designs use the electronic controlled switching that with wear can cause some expensive repairs.
What's the best pump for Line striping machines? The Titan Speeflo Hydra Drive pump is! With its SAE O-ring fitting, and rod alignment.  This equals a longer lasting pump for paint striping machines.
New Swing-Back Stem Design- The Swing Back Frame is set at 65 degrees which equals more leverage, making it easier to push the striper or to lift—quick easy adjustments.
Deadlock Handlebars- If you were a professional cyclist you would be fitted for a bike and if you rode a Harley you the handlebars would adjust to where you like it.  So we listened and here you go.  Adjust the handlebars how you want them move them in or out, up or down, and forward and back--they adjust infinitely to exactly the way you want them.
| | |
| --- | --- |
| Default Title | 433.0 lb |
Add item(s) to your cart, then calculate shipping cost below: