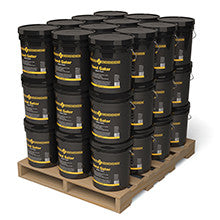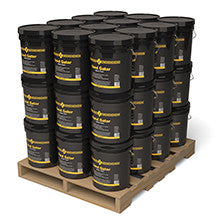 Our Sand Gator™ Mastic Blacktop Patch full skid of 5 gallons (qty 36) is for asphalt pavement contractors or for maintenance buyers who have larger areas of "Alligatored" or failed pavement and desire a way to repair using this smooth mastic thick paste product that dries extremely hard.  All of your asphalt contractors or maintenance companies know and use this type of product for "Gatored" areas of pavement if they maintain asphalt.  Your rental or construction specialty customers will buy this as an "add on" when they see that you carry it because they use it daily.  You will "turn" this full pallet in no time and this will be a money maker for you.  Hardware stores carry a similar product often in 2 gallon sizes for the DIY market, but it is not as beefy as this material and contractors know this.  Sand Gator was created by a 35 year veteran in the pavement industry who knows that every professional pavement contractor uses this one.  They will return to your store just for this and they buy it by the pallet or half pallet.
Professional grade trowel patch for asphalt

5 gallons buckets on full pallets with wholesale pricing

This is your money maker sure thing for your store

Considering some materials to serve local contractors—this is the one!
New to the Pavement Industry and Material Sales:  this pallet of Sand Gator Mastic Blacktop Patch in 5 gallon buckets (qty 36) along with a pallet of our crack sealants and some traffic paint will put you in the business and allow you to serve many local buyers.
---
COVERAGE:  Up to 20 ft.2 for patching alligatoring areas and bird baths in ¼" depth. Up to 80 linear feet of ½" X ½" depth cracks.
CAUTION:  KEEP FROM FREEZING. Do not use when rain is forecast, when surface is wet or when temperature is below 55°F. Wash tools in water. Use a paint thinner if material has dried. Do not store in direct sunlight or where temperatures exceed 100°F. Container should be closed when not in use. Keep out of the reach of children.
PACKAGING:  5 gallon pails and 55 gallon drums.
User friendly, complies with all V.O.C. emissions and E.P.A. standards.
| | |
| --- | --- |
| MATERIAL SPECIFICATIONS: | REQUIREMENTS: |
| Weight per gallon, @ 77°F, ASTM D 1010 | 10.40 - 10.80 |
| Nonvolatile %, ASTM D2939 | 70.00 - 72.00 |
| Viscosity @ 77°, ASTM D562 (Kreb's Stormer Unit) | 125 min. |
| Penetration (0.1 mm), ASTM D 5 | Pass |
| Resistance to water, ASTM D2939 | No blistering, no re-emulsification |
| Ductility, 77⁰F 5 cm/min. cm, ASTM D113 | Pass |
| Flammability | Nonflammable |
Safety Data Sheet (SDS) - Click to View PDF in New Window | Click to Download PDF
This information is to assist customers in determining if this product is suitable for the proposed application, and to satisfy themselves as to the suitability of the contents. Nothing herein shall constitute a warranty, express or implied, including any warranty of merchantability or fitness, nor is protection from any law or patent implied.12/8/05
| | |
| --- | --- |
| Default Title | 2045.0 lb |
Add item(s) to your cart, then calculate shipping cost below: