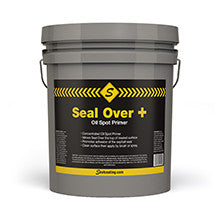 Seal Over +™ is an oil spot primer used for sealing over an existing oil or grease spot in the pavement.  Our formula promotes adhesion and allows you to Seal Over the affected areas.  Apply following cleanup of excess build-up of the petrochemicals or contaminates to promote the adhesion of your seal.  Seal Over + is a concentrated formula and should be used without dilution over the worst areas but can be reduced by water to a 1 to 1 ratio for most oil spot treatments.
Concentrated Oil Spot Primer
Allows Seal Over the top of treated surface
Promotes adhesion of the asphalt seal
Clean Surface then apply by brush or spray
SURFACE PREPARATION:   Surface must be clean, dry and free of all dirt dust and debris.  Scrape or wire broom away excess buildup of oil, grease or petroleum residue prior to use.  Lightly burn off excess oil for improved bonding.
APPLICATION:   Mix well before use and before reduction.  Use full strength on heavy concentrated oil spots.  Reduce 1 to 1 or 1 to 2 with water depending on severity of oil buildup or staining.  Apply with a stiff bristled poly construction broom, brush or roller.  Scrub onto oil or grease spot and allow to dry.
COVERAGE PER GALLON:   300-400 ft.2 per dilute gallon.
CAUTION:   KEEP FROM FREEZING. Wash tools in water.  Use suitable paint thinner if material has dried.  Do not store in direct sunlight.  Container should be closed when not in use.  Keep out of the reach of children.
PACKAGING:   5 gallon pails, 55 gallon drums and 275 gallon tote tanks.
IMPORTANT:   SPRINKLE A SLIGHT AMOUNT OF SILICA SAND ON SEAL OVER + TO IMPROVE ADHESION OF COAL TAR/ASPHALT EMULSION TYPE SEALER
| | |
| --- | --- |
|  MATERIAL SPECIFICATIONS: | REQUIREMENTS: |
| Weight per gallon, ASTM D1010, (lbs) | 8.40 - 8.70 |
| Viscosity @ 77°, ASTM D562 (Kreb's Stormer Unit) | 75-80 KU |
| % Nonvolatile by weight | 30 - 40 |
| Drying time (min) | 20 - 40 |
| Application Temp (°F) | 50 min. |
| Film forming tester over oil | Film must form over oily surface |
| Flammability | Non-flammable |
| VOC Requirements | 0.55 lbs/gal |
Safety Data Sheet (SDS) - Click to View PDF in New Window | Click to Download PDF
Product Info Sheet (INFO) - Click to View PDF in New Window | Click to Download PDF
| | |
| --- | --- |
| Default Title | 45.0 lb |
Add item(s) to your cart, then calculate shipping cost below: