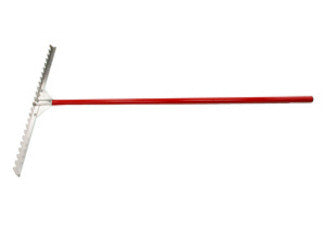 Our Serrated Asphalt Lute Rake comes with a Red Powder Coated Handle at your choice of 6, 7, or 8 foot and in all Lute Blade Sizes. The dual sided blade of this asphalt lute has both a flat edge and serrated edge with a red powder coated aluminum alloy handle making it a great paving tool. Take out the guess work of getting smooth pavement when you use this asphalt paving lute.
2, 2.5, 3 or 3.5 foot Lute Bars Available
6, 7,  or 8 Foot Red Powder Coated Handle

Gusset Brace design holds firm
Constructed of strong aluminum alloy this
asphalt paving tool
is built to last. The
paving lute
has a powder coated handle and rubber tip for added safety. When only the best will do, turn to this
lute for asphalt paving
today!
| | |
| --- | --- |
| 24" (2.5 FT) Serrated Blade | 6 FT Handle | 8.0 lb |
| 24" (2 FT) Serrated Blade | 8 FT Handle | 8.0 lb |
| 30" (2.5 FT) Serrated Blade | 6 FT Handle | 8.0 lb |
| 30" (2.5 FT) Serrated Blade | 8 FT Handle | 8.0 lb |
| 36" (3 FT) Serrated Blade | 6 FT Handle | 8.0 lb |
| 36" (3 FT) Serrated Blade | 8 FT Handle | 8.0 lb |
| 42" (3.5 FT) Serrated Blade | 6 FT Handle | 8.0 lb |
| 42" (3.5 FT) Serrated Blade | 7 FT Handle | 9.0 lb |
| 42" (3.5 FT) Serrated Blade | 8 FT Handle | 9.5 lb |
Add item(s) to your cart, then calculate shipping cost below: