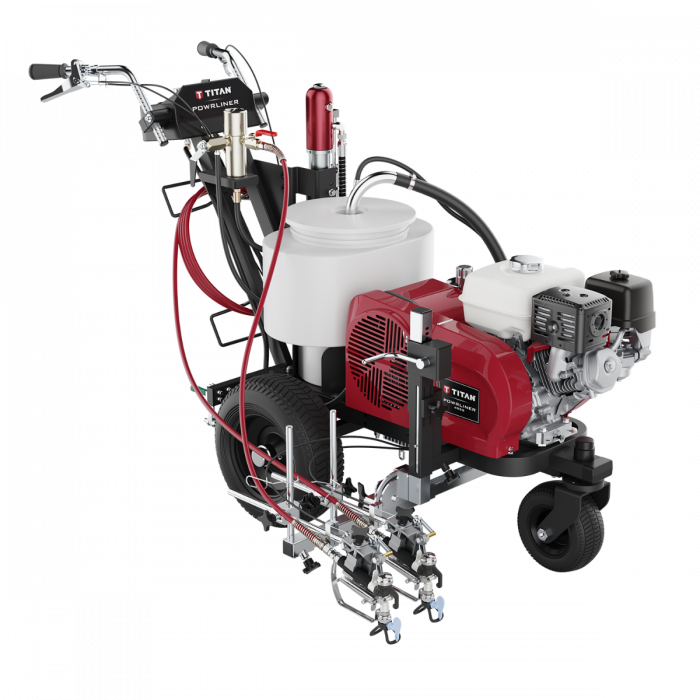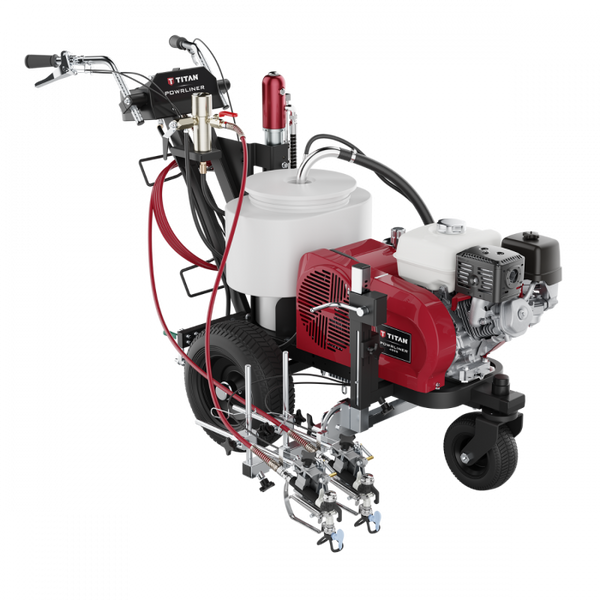 Our Titan PowrLiner 4955 Paint Striping Machine comes with 2 paint guns, a 4 hp Honda Engine (120cc), with paint pumping power to deliver 1.25 GPM from our well known Hydraulic pump known to be an advantage.  Our Hydraflow Pumps deliver slow and steady powerful pumping with less maintenance.  You will enjoy all the features of a Titan with the pivot Smartarm for easy up and down of the arm holding your sprayer.  This makes transporting the machine with the arm up easier and spraying curbs a breeze with a fast adjustment for angle spraying but no messing with the trigger and re-tightening the old way.  You get a 4 year warranty with this unit!  The Deadlock Handlebars are adjustable in 3 ways to make the machine fit the operator — you do this everyday it's about time to have the features for a pro.
Honda GX120 4hp (120cc) engine with 50 watt lamp coil charging
Pumps 1.25 GPM with Max tip Pressure at .036" with gas engine
Precise pressure from 400 to 3300 PSI
Smart Arm and Elevator Feature Standard
12 Gallon Paint Hopper
Option to switch this to an Electric DC Motor 2hp for indoor paint striping

Sprays light-bodied coatings all the way up to low-VOC striping paints

4 Year Warranty Standard!
FREE Shipping!
Works great with Skipdash Type I Traffic Paint
For a more economical line striper, consider the Titan PowrLiner 850 paint striping machine
Options:  we can add the 2hp electric DC motor for warehouse and indoor striping (PN 506-719).  Safer indoor striping.  This pump delivers 1.10 GPM.
Paint Compatibility:  Use Solvent or Water Based Paint.
| | |
| --- | --- |
| Default Title | 422.0 lb |
Add item(s) to your cart, then calculate shipping cost below: