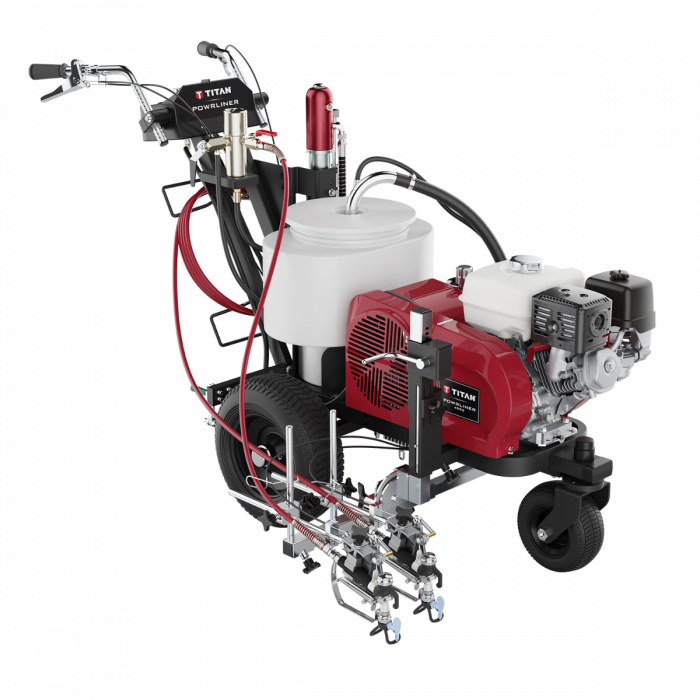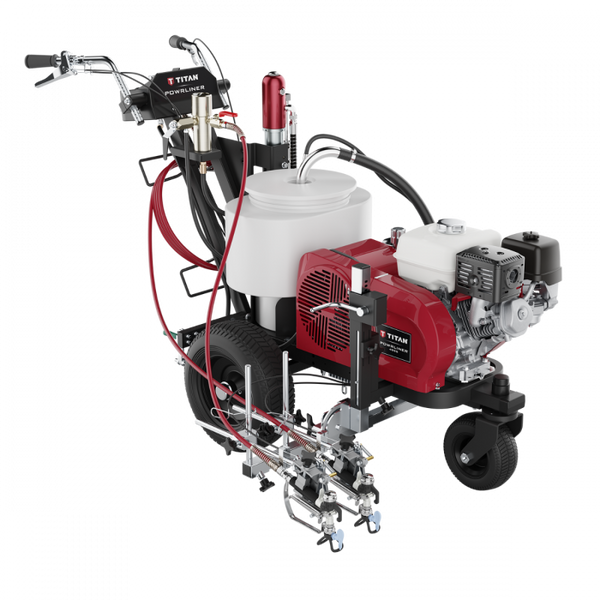 Our Titan PowrLiner 6955 Paint Striping Machine with electric start 5.5hp Honda Engine and Hydra Flo Hydraulic paint pump is what makes this line striper what contractors are talking about.  We listened when we put the Smartarm on the machine to adjust up and down for transportation or curb painting, added the Honda Engine and were first with the Hyrdraulic pump with less wear and more reliable continuous paint delivery and all of it easier to maintain and simple to operate.  Comfort and smooth striping with the pneumatic tires to absorb the bumps, adjustable handle bars for your comfort.  Center power console contains the pressure and throttle control.  You can reach and adjust everything right in front of you.  The console holds your job papers, spray tips and even a drink holder.  You can charge your phone in the 12 volt charger here too.
PL6955 2 Gun
Honda GX160 Engine with 5.5 hp (160cc) Electric Easy Start
2.25 GPM Pump (1gun/tip max pressure .050", 2 gun/tip max .033")
3300 PSI
12 Gallon Poly Paint Hopper
Larger hose rack to hold up to 300' hose
2 Paint Guns included (2 tips included)
Adjustable Pivot arm for paint gun – move it up for transport
4 year warranty!
FREE Shipping!
Works great with Skipdash Type I Traffic Paint
For a more economical line striper, consider the

 

Titan PowrLiner 850 paint striping machine
Paint Compatibility:  Use Solvent or Water based paints.
More about the features that everyone is talking about:  The Deadlock handlebars can be adjusted exactly the way you want them and to fit anyone, Honda Engine 5.5 hp, Hydraulic Paint Pump for Stripers demand less maintenance, the Swivel or Pivot arm that holds your paint sprayer is a simple fast adjustment up.  No difficulty pushing the arm back into the body of the machine like the blue machines — Less monkeying with the gun this way too.  Plenty of power with this machine and double painting lines but if you desire more power consider stepping up to the 8955.
| | |
| --- | --- |
| Default Title | 433.0 lb |
Add item(s) to your cart, then calculate shipping cost below: