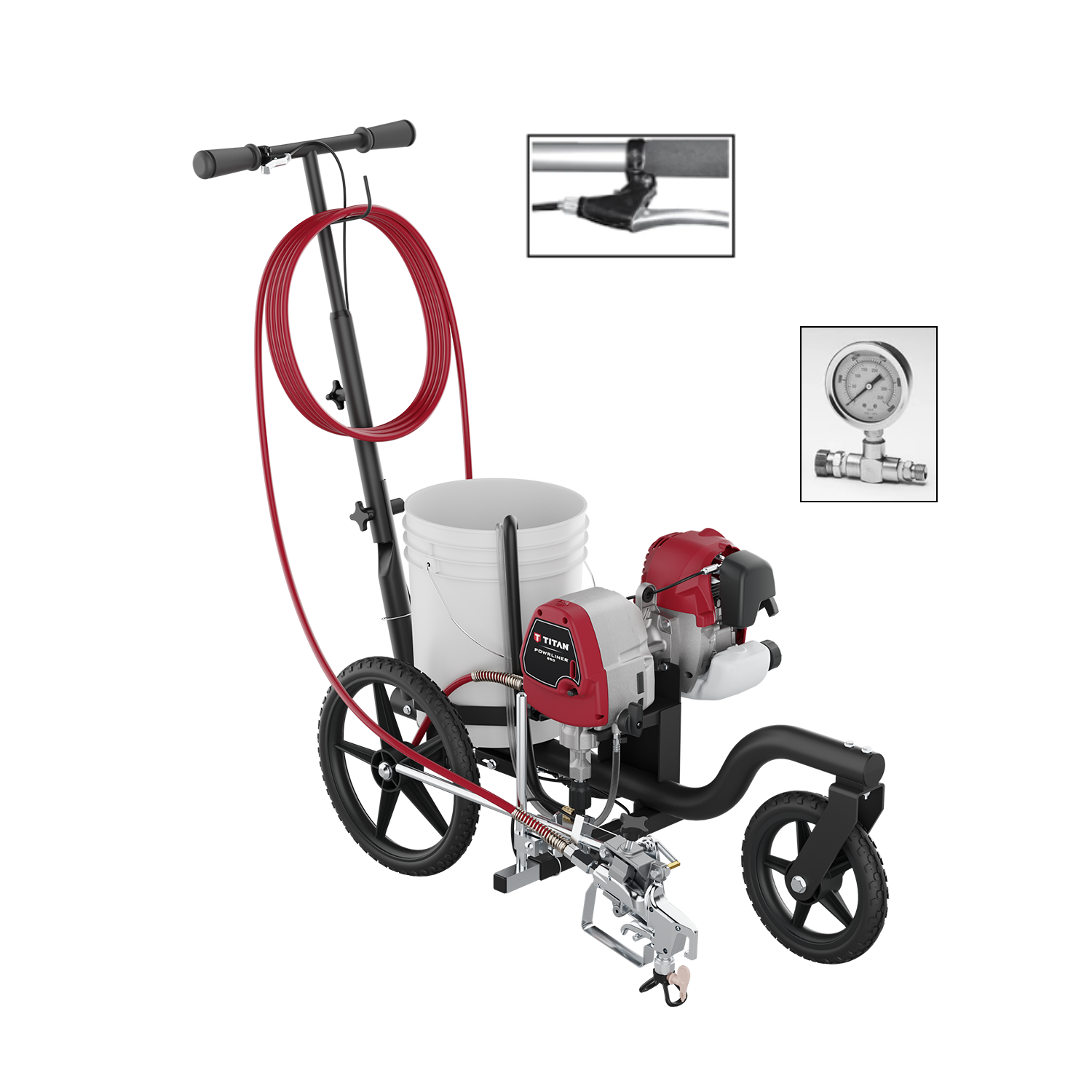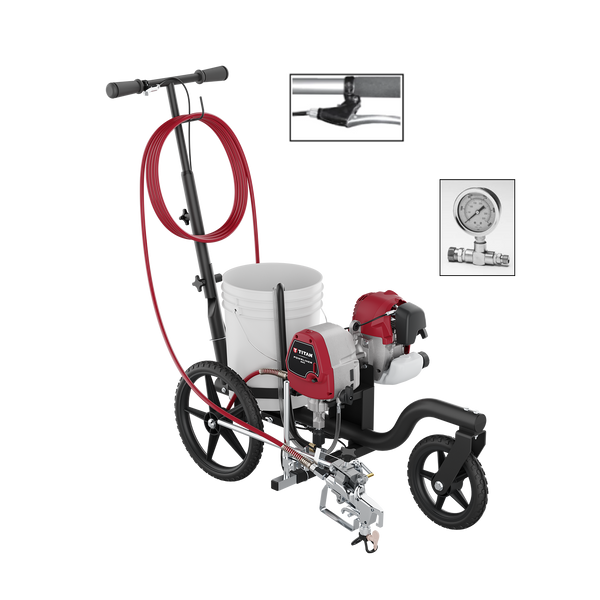 Our Titan PowrLiner 850 PLUS Paint Striping Machine Package is the standard Titan PowrLiner 850 line striper with TWO commonly used add-ons as a package. The two add-ons include the Titan Front Wheel Caster Release Kit as well as the Fluid Pressure Gauge Kit. The 850 was created to be small and affordable, but powerful enough for most small to medium sized line painting and field marking jobs.
The Titan PowrLiner 850 paint striper is easy for a one person operation and for all day parking lot painting. The 3000 PSI Piston Pump with 3 adjustable settings compares to the blue competitor's much larger machine in order to have this power. This striper dynamic pressure control which allows you to remove the gun from the holder and dial down the pressure for hand spraying and stenciling; or turn up the pressure and keep going on that pavement line striping project. This Titan line striper makes a novice an expert. No difficulty in handling the light weight of this machine which makes it easy for you to teach yourself on the job if you are not a pro. You can do it with this small paint striping machine without an experienced coach.
Versatile, small Paint Striping Machine for small-to-medium sized projects at an affordable price
Includes the

 

Paint Striper Fluid Gauge Kit and Caster Release Kit in one package
Good for asphalt/pavement or field marking
3000 PSI Piston Pump – The closest competitor's line striper with this power is a much larger machine
3 Pressure settings with dynamic adjustable pressure (turn it down and slow the paint for stencils)
1.6 HP Gas Motor (37.7cc 4 stroke - runs on regular pump gas, NOT a gas/oil mixture)
0.33 GPM paint delivery
LX-40 Airless Striping Gun
Weight: 70 lbs
This is a machine that is designed for Latex Paint ONLY, we recommend our

 

Skipdash Asphalt Line Paint
What is included with the PowrLiner 850 PLUS package? Included is the 3000 PSI Piston Pump, 50 foot hose, LX-40 Titan Paint Gun (airless striping operation), TR-1 reversible line striping spray tip, 1.6 Horse Power Motor with 0.33 Gallons Per Minute Paint Delivery, Wheel Caster Release Kit, Fluid Pressure Gauge, and a 2 year Manufacturer's Warranty.
Great features of the Titan PowrLiner 850 PLUS:
  It has the front wheel caster release (lock for straight striping, squeeze release to free wheel, turn and paint a radius), the fluid gauge kit to adjust pressure, an Auto Oiler that lubricates the piston rod/packings with the push of a button, Direct Link Pressure Control (300psi to 3000psi) which allows for dynamic adjustment meaning you can use the gun to spray paint at different outputs to reduce paint flow when stencil painting or increase it for line painting. The Paint Gun is removable for stencil painting or for general outdoor painting.
| | |
| --- | --- |
| Default Title | 87.0 lb |
Add item(s) to your cart, then calculate shipping cost below: