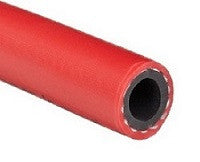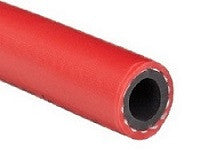 Our Sealcoating Spray Hose is made of the Red Pliovic Plus material you are looking for at 250 psi and available by the foot.  It lighter and tougher than others.  This sealcoating spray truck hose is in stock in bulk with no fittings or in 100+ foot lengths with swivel compression fittings and 3/4" male threaded ends.  It will hook right to your hose reel and you will have no trouble putting this on with the preferred swivel ends.  You do want both swivel ends to add this to your hose reel.  
Sold by the foot! 

Seal Spray Wand Hose rated for 250 psi for your Sealcoating spray truck and wand

Our Pliovic Plus hose resists oils and chemicals and can handle being dragged around the pavement

This lighter weight material was selected by our buyer with over 30 yrs in the pavement sealing business

Lighter and tougher than other sealer hose and good for warm climates

Available in bulk or ready to hook up with swivel compression fittings on both ends (both ends male-see options)
Need Crimped Fitted Swivel Hose Ends on your Seal Hose?   See Seal Spray Hose with Crimped Fittings (both ends are male swivel fittings if you follow this link).
"I used to use an all rubber hose product by a big name manufacturing company but found that it was too heavy and also wore out quickly from all the dragging around on the pavement.  The braided fiber like reinforcement would show through the rubber in less than a full season and it was harder and heavier to roll up.  Then I discovered this hose suitable for seal material."  --Pavement Sealcoating expert for over 35 years
Specifications:
Inside diameter (ID) is 3/4" and OD is 1.11"

Up to 250 psi

Multi Purpose Combination Air-Liquid Hose Quality (Water or Mild Water-Soluble Chemicals)

Excellent Cold Weather Flexibility

Medium to High Oil Resistance 

Easy Recoil after use
| | |
| --- | --- |
| Sealcoating spray hose price per foot | 0.33 lb |
| 200 Feet of 3/4 in Sealcoating Spray Hose | 66.0 lb |
| 300 Feet of 3/4 In Sealcoating Spray Hose | 99.0 lb |
| 450 Feet of 3/4 in Sealcoating Spray Hose | 142.0 lb |
Add item(s) to your cart, then calculate shipping cost below: