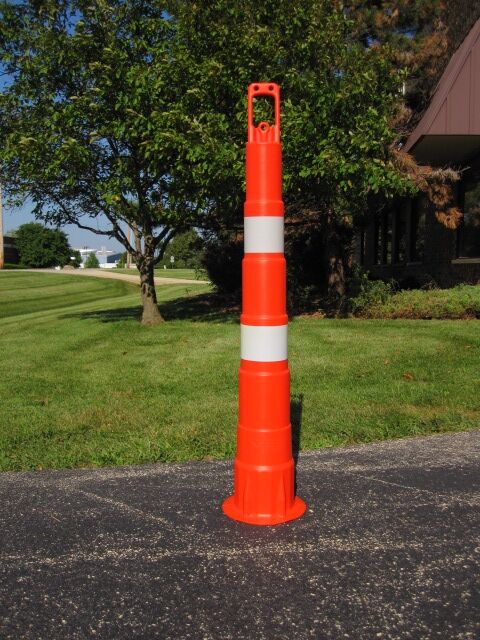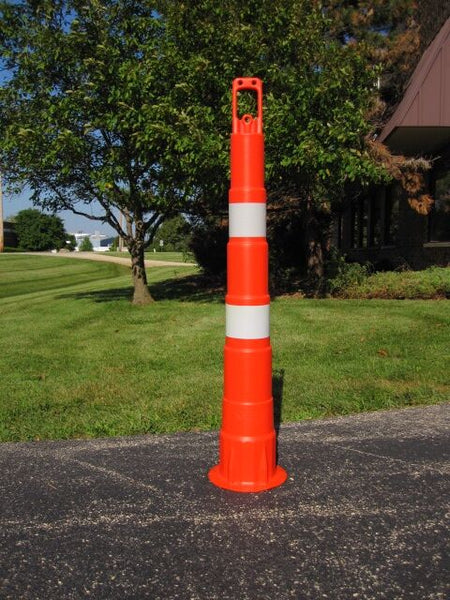 Order a full pallet quantity of these 42 in Traffic Channelizers with two 4in Reflective Stripes to save!  These channelizers are 42 inches tall with two 4-inch reflective stripes with different sheeting qualities available: Engineer Grade, Hi-Intensity Grade, or Diamond Grade. Channelizers do not have a base, but we have a full pallet/truckload of 16 lb bases and pallet/truckload of 30lb bases that are compatible with these channelizers if you need added stability. Channelizer has a fracture resistant handle for grip when transporting or as a place to secure lights. Tapered, five tier design allows easy stacking to save room when transporting.  A full pallet of these channelizers comes with 200 per pallet.  Buy in large quantity to save on your next project!   
Traffic Channelizer Pallet – NO base included – two 4-inch stripes of reflective sheeting

 

Pallet quantity includes 200 Channelizers

 

Choose between Engineer Grade, Hi-Intensity , or Diamond Grade sheeting

Add either

 

16 lb rubber bases

 

or

 

30 lb rubber bases
Product Details: 
42 in tall

 

Weight: 3 lbs, add a base for added weight

 

Diameter: Bottom section 6 in and tapers to 4 in for the top section

 

Material: Linear Low-Density Polyethylene

 

Color: UV-Stabilized Highway Orange

 
Note: 
Two reflective stripes are white.  Choose desired grade of sheeting.
Be sure to adhere to local and state specs for channelizers for how many reflective stripes and of which quality is required.  These channelizers come with two 4-inch reflective stripes and the options of Engineer Grade, Hi-Intensity Prismatic, or Diamond Grade sheeting.
| | |
| --- | --- |
| Engineer Grade - Full Pallet Channelizer (no base) - Qty 200 | 860.0 lb |
| Hi-Intensity - Full Pallet Channelizer (no base) - Qty 200 | 860.0 lb |
| Diamond Grade - Full Pallet Channelizer (no base) - Qty 200 | 860.0 lb |
Add item(s) to your cart, then calculate shipping cost below: