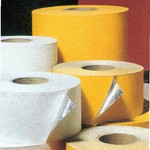 Our VISA-LINE Temporary Pavement Foil Tape Engineer Premium Grade for Road Lines VISA-LINE can be used where safety needs to happen right now and for short term marking needs during your road construction project. You take safety seriously and when the paving happens the lines need to go down. This foil pavement marking line tape will unroll and go down and not make your applicator look silly trying to untwist it to lay it flat. You need to get it down flat and firm to the pavement and it needs to stay in place until the thermoplastic crew arrives.
Visa-Line Temporary Pavement Foil Tape or Pavement Road lines in temporary foil - this is it
Rolls of temporary lines in a foil material for temporary safety following your paving crew
Rolls of Foil Lines come in Yellow or White
Temporary Pavement Road Line rolls of foil
Remove with heat or pave over with surface layer
Buy in Half Pallet quantities and save over 21%!!!
Engineer Grade Foil Road Lines in Rolls: Used for a longer-term temporary project. Has a thicker matrix and binder system for greater durability.
Construction Grade Temporary Road Lines: Used for temporary safety and line marking or short-term projects.  Make it safe before the thermoplastic goes down!
DOT Approved

| | |
| --- | --- |
| White / 4" x 50 Yard Roll | 7.0 lb |
| White / 4" x 50 Yard Half Pallet (64 Rolls - Save 21% Over Single Roll Price) | 460.0 lb |
| White / 5" x 50 Yard Roll | 8.0 lb |
| White / 5" x 50 Yard Half Pallet (64 Rolls) | 530.0 lb |
| White / 6" x 50 Yard Roll | 11.0 lb |
| White / 6" x 50 Yard Half Pallet (64 Rolls) | 740.0 lb |
| White / 8" x 50 Yard Roll | 13.0 lb |
| White / 8" x 50 Yard Half Pallet (64 Rolls) | 850.0 lb |
| Yellow / 4" x 50 Yard Roll | 7.0 lb |
| Yellow / 5" x 50 Yard Roll | 8.0 lb |
| Yellow / 5" x 50 Yard Half Pallet (64 Rolls) | 530.0 lb |
| Yellow / 6" x 50 Yard Roll | 11.0 lb |
| Yellow / 6" x 50 Yard Half Pallet (64 Rolls) | 740.0 lb |
| Yellow / 8" x 50 Yard Roll | 13.0 lb |
| Yellow / 8" x 50 Yard Half Pallet (64 Rolls) | 850.0 lb |
| Yellow / 4" x 50 Yard Half Pallet (64 Rolls - Save 21% Over Single Roll Price) | 460.0 lb |
Add item(s) to your cart, then calculate shipping cost below: