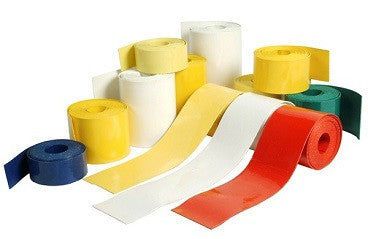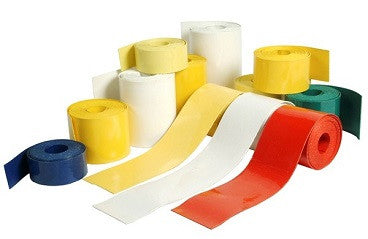 Our 4 Inch Preformed Thermoplastic Road Line Rolls come in a variety of colors for your Roadway & Pavement needs. These 4 inch stripes in rolls can be applied to anyway roadway to delineate the lanes and keep traffic flowing.  Separate the traffic for safety with heat down lines that come in rolls. Quickly heat down the center line on the Roadway with the torch or apply right to the fresh hot asphalt.  The Swarco 4 inch road line heat applied in rolls eliminates delay and can be applied for safety immediately.  No melting equipment needed, just a torch. 4 Inch Preformed Thermo Lines in a roll.  Use Primer and Epoxy for concrete applications to create a better bond to surface. 
Details & Specifications:
Rolls for the Road or Street lines are 4 inches wide x 30 feet long
Available in Blue, White, Red & Yellow
Meets Most State and Federal Specifications
Heat applied with a propane torch
Fast Installation
Use of Thermoplastic Primer on asphalt and concrete surfaces can greatly assist with adhesion of material.

** NOTE**

  If applying to Concrete surfaces, Thermoplastic Epoxy is required to ensure proper adhesion!
Recommendations for applying thermoplastic materials (PDF)
4 Inch Thermoplastic Rolls or Stripes are ready to apply with heat and in very little time you have a safe roadway again!
| | |
| --- | --- |
| White / 90 MIL (4 in x 30 ft) | 10.0 lb |
| White / 125 MIL (4 in x 30 ft) | 15.0 lb |
| Yellow / 90 MIL (4 in x 30 ft) | 10.0 lb |
| Yellow / 125 MIL (4 in x 30 ft) | 15.0 lb |
| Blue / 90 MIL (4 in x 30 ft) | 10.0 lb |
| Blue / 125 MIL (4 in x 30 ft) | 16.0 lb |
| Red / 90 MIL (4 in x 30 ft) | 10.0 lb |
| Red / 125 MIL (4 in x 30 ft) | 15.0 lb |
Add item(s) to your cart, then calculate shipping cost below: