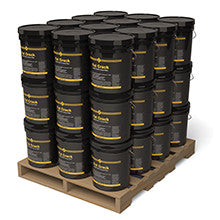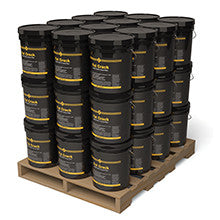 Our Fat Crack™ Heavy Duty crack sealer at full skid wholesale pricing is used for larger asphalt and concrete cracks and is the perfect first product for your store if you want to serve pavement and construction contractors.  If you have a contractor base already or are in the equipment rental business this would be the first of 3 other cold single component crack sealers that you should offer.  This was made for larger cracks and joints and is applied cold and right out of the bucket.  We offer this asphalt crack filler at full pallet pricing for your rental or construction specialty store. Why not select one you can sell easier as it is a preferred quality of crack sealer at a reasonable price and when it looks better it sells better. You will be able to turn this one fast and will have a hard time keeping this in stock once they know you have it. Paving and sealing contractors can use this for maintenance of concrete or asphalt joints of many sizes.
Heavy duty crack filler full pallet quantity and price
Best value and high quality joint sealant
Good margin and good turn for this - 5 gallon containers (36 to a full pallet)
Use with asphalt crack filler pour pot & V-shaped rubber asphalt squeegee
COVERAGE PER GALLON:  Estimated to cover up to 80 linear feet of ½" X ½" depth cracks, but coverage is indefinite. Up to 20 ft.² for patching bird baths ¼" in depth.
CAUTION:  KEEP FROM FREEZING. Do not use when rain is forecast, when surface is wet or when temperature is below 50°F. Wash tools in water. Use a paint thinner if material has dried. Do not store in direct sunlight or where temperatures exceed 100°F. Container should be closed when not in use. Keep out of the reach of children.
PACKAGING:  1 gallon jugs or 5 gallon pails, and 55 gallon drums.
User friendly, complies with all V.O.C. emissions and E.P.A. standards
MATERIAL SPECIFICATIONS:
REQUIREMENTS:
Weight per gallon, @ 77°F, ASTM D1010, lbs
9.20 - 9.60
Nonvolatile %, ASTM D2939
68.00
Viscosity @ 77°, ASTM D562 (Kreb's Stormer Unit)
85 - 95
Penetration (0.1 mm), ASTM D5
50 - 60
Drying time (minutes) ¼" X ¼" @ 77°F & 50% RH
30 min.

Std. Spec for Emulsified Asphalt

AASHTO Designation M140-70
ASTM Designation D977-73 & D244



Meets specs.
Meets specs.
Safety Data Sheet (SDS) - Click to View PDF in New Window | Click to Download PDF
---
This information is to assist customers in determining if this product is suitable for the proposed application, and to satisfy themselves as to the suitability of the contents. Nothing herein shall constitute a warranty, express or implied, including any warranty of merchantability or fitness, nor is protection from any law or patent implied.12/8/05
| | |
| --- | --- |
| Default Title | 1784.0 lb |
Add item(s) to your cart, then calculate shipping cost below: