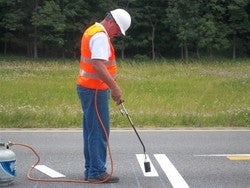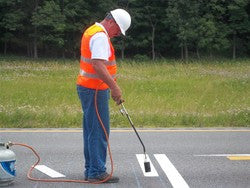 Our packs of White Preformed Thermoplastic Road Pavement Contrast Lines come in 2 thicknesses and various sizes. These easy installation lines are best used for highway, city, and suburban projects. All you need is a clean pavement surface and our heat activated product. Glass Beads within the surface of the product produce a reflective effect in direct light for enhanced Safety. We are proud to say that most Preformed Thermoplastic products we offer are extremely durable to environmental and physical abuse.
Specifications & Details:
White lines with a 1.5" Black Border

Meets Most State and Federal Specifications
Heat applied
Fast Installation
Use of Thermoplastic Primer on asphalt and concrete surfaces can greatly assist with adhesion of material.
** NOTE**  If applying to Concrete surfaces, Thermoplastic Epoxy is required to ensure proper adhesion!
Recommendations for applying thermoplastic materials (PDF)
Other designs such as stencils, color, and size variants may also be found throughout Sealcoating.com.
| | |
| --- | --- |
| 90 MIL (4 in x 3 ft) | 40.0 lb |
| 125 MIL (4 in x 3 ft) | 40.0 lb |
| 90 MIL (5 in x 3 ft) | 46.0 lb |
| 125 MIL (5 in x 3 ft) | 46.0 lb |
| 90 MIL (6 in x 3 ft) | 35.0 lb |
| 125 MIL (6 in x 3 ft) | 35.0 lb |
| 90 MIL (8 in x 3 ft) | 54.0 lb |
| 125 MIL (8 in x 3 ft) | 54.0 lb |
Add item(s) to your cart, then calculate shipping cost below: