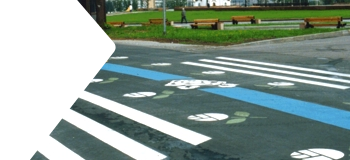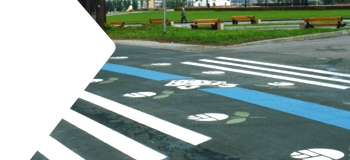 4 Inch by 3 Foot Road Line Segments Preformed Thermoplastic for Pavement are available in two thicknesses (90 MIL or 125 MIL) and six colors (White, Yellow, Blue, Red, Black and Light Green).  These kits include multiple pcs per pack and are easy to install.  See below detail for how many in each kit of line segments. Flat Roadway line segments can be used for crosswalks or other areas to identify safety zones.  All you need is a clean surface and a torch to heat down the preformed paint stripe to the pavement.  Glass Beads are embedded within the surface of the product and create the reflectivity required for safety and to meet MUTCD/FHWA applications.  Select this 4" by 3' road line segment in desired thickness and color.  
Meets most state and federal specifications (MUTCD/FHWA)
Easily applied with a

 

propane torch

 

or

 

infrared heat gun
SIZE: 4" x 3'
Thicknesses of 90 MIL (48 pc per pack) or 125 MIL (30 pc per pack)
Colors: White, Yellow, Blue, Red, Black, Light Green
Use of Thermoplastic Primer on asphalt and concrete surfaces can greatly assist with adhesion of material.
** NOTE**  If applying to Concrete surfaces, Thermoplastic Epoxy is required to ensure proper adhesion!
Recommendations for applying thermoplastic materials (PDF)
How Many 4 inch line segments are in each package (kit)?
All 90 MIL 4 inch wide options come with 144 linear feet per pack or quantity 48 pcs per pack.
All 125 MIL 4 inch options come with 90 linear feet per pack or quantity 30 pcs per pack.  
For other measurements and thermoplastic line marking products see our Preformed Thermoplastic Pavement Markings.
| | |
| --- | --- |
| 4 in x 3 ft 90 MIL WHITE Preformed Thermoplastic Road Line Segments | 49.0 lb |
| 4 in x 3 ft 90 MIL YELLOW Preformed Thermoplastic Road Line Segments | 49.0 lb |
| 4 in x 3 ft 90 MIL BLUE Preformed Thermoplastic Road Line Segments | 49.0 lb |
| 4 in x 3 ft 90 MIL BLACK Preformed Thermoplastic Road Line Segments | 49.0 lb |
| 4 in x 3 ft 90 MIL LIGHT GREEN Preformed Thermoplastic Road Line Segments | 49.0 lb |
| 4 in x 3 ft 90 MIL RED Preformed Thermoplastic Road Line Segments | 49.0 lb |
| 4 in x 3 ft 125 MIL WHITE Preformed Thermoplastic Road Line Segments | 46.0 lb |
| 4 in x 3 ft 125 MIL YELLOW Preformed Thermoplastic Road Line Segments | 46.0 lb |
| 4 in x 3 ft 125 MIL BLUE Preformed Thermoplastic Road Line Segments | 46.0 lb |
| 4 in x 3 ft 125 MIL BLACK Preformed Thermoplastic Road Line Segments | 46.0 lb |
| 4 in x 3 ft 125 MIL LIGHT GREEN Preformed Thermoplastic Road Line Segments | 46.0 lb |
| 4 in x 3 ft 125 MIL RED Preformed Thermoplastic Road Line Segments | 46.0 lb |
Add item(s) to your cart, then calculate shipping cost below: