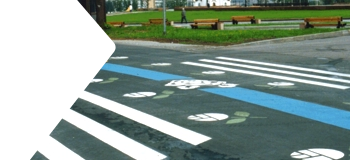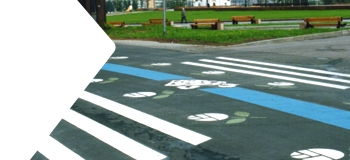 These Preformed Thermoplastic Road Line Segments (125 MIL) come in 3 foot sections and are available in different widths ranging 5" to 24" and different colors.  All are kits with multiple line segments in each package depending on the width (see below). These flat roadway line segments are perfect to use for crosswalks and safety zones.  They are made of preformed thermo plastic with glass beads embedded for reflection that meet state and federal specifications (MUTCD/FHWA).  They're easy to install, all that's needed is a clean surface and hot torch to heat the preformed paint segment to the pavement.  This product is a long term solution since thermoplastic material lasts 8 to 10 times longer when compared to traditional paint.  
Thermoplastic Flat Roadway segments for crosswalks and more
Multiple widths to choose from: (5" 6" 8" 10" 12" 16" 18" 24")
Each Width Size includes a bundle of 3 foot sections (a kit with multiple pcs.) select your size to see the bundled quantity in each kit
Colors: White, Yellow, Black (additional colors for 24")
Easily applied with a

 

propane torch

 

or

 

infrared heat gun
Meet most state and federal requirements (MUTCD/FHWA)
Use of Thermoplastic Primer on asphalt and concrete surfaces can greatly assist with adhesion of material.
** NOTE**  If applying to Concrete surfaces, Thermoplastic Epoxy is required to ensure proper adhesion!
Recommendations for applying thermoplastic materials (PDF)
See our full collection of Preformed Thermoplastic Pavement Markings for different thickness or other options!
How many Preformed Thermoplastic line segments are in each kit of Line Segments and how many square feet does each kit include?
5" x 3' comes with 60 linear feet per package (20 units included) 
6" x 3' comes with 60 linear feet per package (20 units included)
8" x 3' comes with 45 linear feet per package (15 units included)
10" x 3' comes with 30 linear feet per package (10 units included)
12" x 3' comes with 30 linear feet per package (10 units included)
16" x 3' comes with 15 linear feet per package (5 units included)
18" x 3' comes with 15 linear feet per package (5 units included)
24" x 3' comes with 15 linear feet per package (5 units included)
| | |
| --- | --- |
| 5 in x 3 ft 125 MIL WHITE Preformed Thermoplastic Road Line Segments | 38.5 lb |
| 5 in x 3 ft 125 MIL YELLOW Preformed Thermoplastic Road Line Segments | 38.5 lb |
| 5 in x 3 ft 125 MIL BLACK Preformed Thermoplastic Road Line Segments | 38.5 lb |
| 6 in x 3 ft 125 MIL WHITE Preformed Thermoplastic Road Line Segments | 46.0 lb |
| 6 in x 3 ft 125 MIL YELLOW Preformed Thermoplastic Road Line Segments | 46.0 lb |
| 6 in x 3 ft 125 MIL BLACK Preformed Thermoplastic Road Line Segments | 46.0 lb |
| 8 in x 3 ft 125 MIL WHITE Preformed Thermoplastic Road Line Segments | 46.0 lb |
| 8 in x 3 ft 125 MIL YELLOW Preformed Thermoplastic Road Line Segments | 46.0 lb |
| 10 in x 3 ft 125 MIL WHITE Preformed Thermoplastic Road Line Segments | 38.5 lb |
| 10 in x 3 ft 125 MIL YELLOW Preformed Thermoplastic Road Line Segments | 38.5 lb |
| 12 in x 3 ft 125 MIL WHITE Preformed Thermoplastic Road Line Segments | 46.0 lb |
| 12 in x 3 ft 125 MIL YELLOW Preformed Thermoplastic Road Line Segments | 46.0 lb |
| 16 in x 3 ft 125 MIL WHITE Preformed Thermoplastic Road Line Segments | 31.0 lb |
| 16 in x 3 ft 125 MIL YELLOW Preformed Thermoplastic Road Line Segments | 31.0 lb |
| 18 in x 3 ft 125 MIL WHITE Preformed Thermoplastic Road Line Segments | 35.0 lb |
| 18 in x 3 ft 125 MIL YELLOW Preformed Thermoplastic Road Line Segments | 35.0 lb |
| 24 in x 3 ft 125 MIL WHITE Preformed Thermoplastic Road Line Segments | 46.0 lb |
| 24 in x 3 ft 125 MIL YELLOW Preformed Thermoplastic Road Line Segments | 46.0 lb |
| 24 in x 3 ft 125 MIL BLACK Preformed Thermoplastic Road Line Segments | 46.0 lb |
| 24 in x 3 ft 125 MIL BLUE Preformed Thermoplastic Road Line Segments | 46.0 lb |
| 24 in x 3 ft 125 MIL RED Preformed Thermoplastic Road Line Segments | 46.0 lb |
| 24 in x 3 ft 125 MIL BIKE LANE GREEN Preformed Thermoplastic Road Line Segments | 46.0 lb |
Add item(s) to your cart, then calculate shipping cost below: