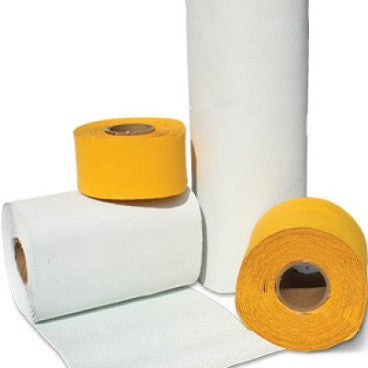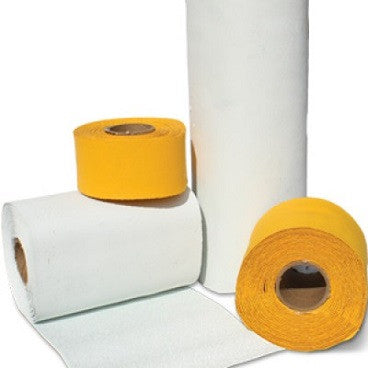 We have Preformed Thermoplastic Road Lines in rolls in all sizes in 90 MIL and 125 MIL thickness. Available in multiple widths: 6in, 8, 12, 16, 18, 24. This roll of tape is your instant lane divider or center line.  Just unroll the pavement line and apply a little heat to the pavement or apply over your freshly paved asphalt roadway and the road is open for business.  Instant safety with this lane divider brightly colored for visibility during the night or when raining.  Keep the crew safe and put the lines down right away.  Melt or heat to the concrete or asphalt pavement with the use of any torch. These are pre-cut and provide easy installation without the use of complex melting equipment. The marking rolls are good for dividing traffic.  All you need is a clean pavement surface and our heat activated product. Preformed thermoplastic road lines come in a roll form ready to use and quickly applied.  Use with Thermoplastic Primer and Epoxy for applications on concrete to create a better bond.   
Details & Specifications:
Preformed Thermo Road Lines 90 Mil thickness in 4 inch (see below), 6 inch, 8 inch, 12 inch, 16 inch and 24 inch widths.
Other sizes not found here can be viewed by following the links below--
For Preformed Rolls of 4 inch road lines (click) available in many colors at low prices
For 125 mil thickness the larger widths of Road lines in Rolls such as 6 inch wide rolls, 8 inch, 12 inch, 16 inch, 18 inch and 24 inch (click).
Shipping Method:  Most often these Road Lines in Rolls will ship by way of freight shipment as these are relatively heavy and even small quantities can dictate this type of shipping.  In general, when the weight exceeds 150 lbs in total order they will be shipped by freight method.  
| | |
| --- | --- |
| 90 MIL (6 in x 30 ft) / White | 15.0 lb |
| 90 MIL (6 in x 30 ft) / Yellow | 15.0 lb |
| 90 MIL (8 in x 30 ft) / White | 20.0 lb |
| 90 MIL (8 in x 30 ft) / Yellow | 20.0 lb |
| 90 MIL (12 in x 30 ft) / White | 31.0 lb |
| 90 MIL (12 in x 30 ft) / Yellow | 31.0 lb |
| 90 MIL (16 in x 30 ft) / White | 41.0 lb |
| 90 MIL (16 in x 30 ft) / Yellow | 41.0 lb |
| 90 MIL (18 in x 30 ft) / White | 46.0 lb |
| 90 MIL (18 in x 30 ft) / Yellow | 46.0 lb |
| 90 MIL (24 in x 30 ft) / White | 61.0 lb |
| 90 MIL (24 in x 30 ft) / Yellow | 61.0 lb |
Add item(s) to your cart, then calculate shipping cost below: